Perish Song
(Japanese:
ほろびのうた
Perish Song
) is a non-damaging
Normal-type
move
introduced in
Generation II
.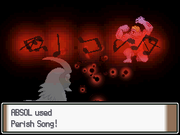 Description
Edit
Any Pokemon that hears this song faints in three turns unless it switches out of battle.
Type: Normal
Category: Status
PP: 5 (max.8)
Power: ----
Accuracy: ----%
After 3 turns, all Pokémon that were on the field when Perish Song was used will faint unless they switch out. Perish Song does not affect Pokémon with the ability Soundproof. If a Pokémon switches out with Baton Pass, Perish Song will still be in effect on the Pokémon switched in, even if it has the ability Soundproof.
Mystery Dungeon
Edit
Any Pokémon in the player's Rescue Party affected by Perish Song will faint in 3 turns. However, it can be prevented by entering the stairs to the next floor or by sending home an affected partner before the third turn.
In The Anime
Edit
Any Pokemon that hears this song faints.
Pokemon
Methods
User
First Used In
Note
Misdreavus
Misdreavus sings loudly and black waves of energy come out of its mouth, hurting Misdreavus and making crimson static appear over the opponent, hurting them as well or Misdreavus release multiple gold rings from its mouth.
Marina's Little Miss
The Legend of Thunder
Debut
Corina's Misdreavus
HGSS117
None
Altaria
Altaria flies into the air and spins slightly, singing it creates a trail of colors including gold which sparkles in the air or Altaria sings loudly and releasing multiple white circle from its mouth, hurting the opponent.
Nando's Altaria
DP174
None
Winona's Altaria
BS180
None
Politoed
Politoed sings loudly and spins, releasing a black waves of energy, hurting Politoed and making white static appear over the opponent, hurting them as well or Politoed jumps and release multiple gold rings from its mouth, hurting the opponent.
Gold's Politoed
An Egg Scramble!
None
Absol
Absol sings loudly and blue wave of energy come out of its mouth and making a crimson static appear over the opponent, hurting them.
Sapphire's Absol
BS011
None